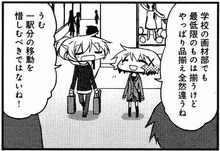 Aobano (青葉野) is a city in the Hidamari Sketch universe. It is located one train stop away from Asagi-chō.
It is home to a large department store with an art supplies store, presumably Sekaiya.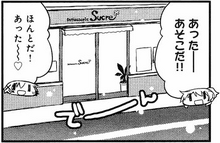 Sucre is a cake shop in Aobano known for its delicious roll cakes. It is a five minute walk from the station's south exit. Matsuri is looking for it when she runs into Yuno and Miyako. According to her, the pâtissier has a thick beard.
Many fictional cities mentioned in Hidamari Sketch are named after colors. Aoba means "green leaves," fitting with its proximity to asagi and midori.