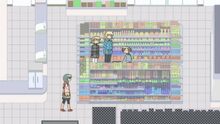 Berry Mart (ベリーマート) is a convenience store near Yamabuki High School. Hidamari tenants frequently buy groceries there, and the store is notable enough that Yoshinoya pointed it out during her impersonation of a tour guide on a field trip. Its prices are higher than DaDa Mart, but its convenient location keeps its customers coming back. Nonetheless, it is where Hiro does most of her grocery shopping, and where she sends other friends to get last-minute items.
The Landlady once worked here for exactly one day at the request of the owner, who is an old lady. According to Hiro, Berry Mart closes early but anyone can shop at it 24 hours a day if they wake up the owner.
There is an incident early in the manga where Berry Mart accidentally sells Hiro an alcoholic beverage instead of the juice she intended to buy. This results in Yuno and Miyako becoming very intoxicated at a group meal.
Community content is available under
CC-BY-SA
unless otherwise noted.