Chika is Sae's younger sister, two years her junior. She attended Maezawa Middle School and advanced to a public high school in the vicinity of her family home. She lives with her parents.
Chika looks similar to Sae with a similar hair color and style, albeit her hair and eyes are of a lavender color. She wears a hairclip.
When Chika is first seen, she is a middle school student preparing for her high school entrance exams, but unlike Sae she has no interest in pursuing either art or literature. She's satisfied with her public schooling and isn't interested in attending a faraway private high school like her sister.
She played in her middle school band.
She occasionally indulges in immature behavior (such as her crush on a famous Kabuki actor) and is not above teasing her elder sister. Despite this, she supports her sister's artistic and literary ambitions and enjoys reading the fiction she writes.
Chika's occasional visits are generally uncomfortable experiences for Sae, but both will support each other when it comes down to it. The other Hidamari residents are all fond of Chika and will sometimes invite her into the building without Sae's prior knowledge or consent.
Chika is not as matured as her older sister, and will make fun of anything strange like the shape of the Principal's head.
She initially was only referred to in the manga, but SHAFT decided to expand her role and have her become a reoccurring character. She did not appear in person in the manga until the June 2012 issue of Manga Time Kirara Carat, corresponding to vol. 7, p. 75-80. However, Yuno and the other residents never got a chance to meet her in the manga continuity.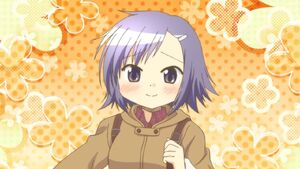 Community content is available under
CC-BY-SA
unless otherwise noted.