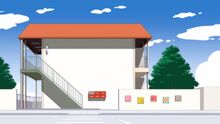 The Hidamari Apartments (ひだまり荘 Hidamari-sō) are the primary setting of Hidamari Sketch. It is a six-unit complex across the street from Yamabuki Private Arts High School, and is exclusively occupied by female students of that school. The complex is owned by the Landlady. Its address is Midori City, Asagi-chō 4-16.
Hidamari tenants live alone, with no direct parental supervision. In the lore of the school the apartments have a reputation for housing eccentric art students. To some students like Arisawa, they are known as the Naughty Apartments (やんちゃアパート Yancha Apāto). Other nicknames include the Shut Up Apartments (おだまり荘 Odamari-sō) and the Bloody Apartments (血だまり荘 Chidamari-sō).
The nameplate of the building is a special design the four tenants created one summer at the sudden request of the Landlady. Each tenant painted one hiragana character in the sign, with all four collaborating on the kanji for "Apartments."
The apartments' three rules (according to Miyako) are as follows: no pets, no pianos, and no boys (relatives permitted).
The Landlady requires tenants to pay a security deposit that is either fully or partially refunded when they move out, depending on any damages incurred. (She claims to be a "strict inspector" and tells Hiro and Sae not to expect their deposits back.) Unlike many Japanese landlords, she does not ask for key money. [1]
Rent for rooms on the ground floor is 45,000 yen/month. Rooms 201 and 203 cost 46,000 yen/month. Water, and possibly utilities as well, are billed separately. Room 202's rent is the cheapest at only 40,000 yen/month. The Landlady ran out of money in the midst of renovations and could not fund repairs for its leaky roof. However, she kept it as-is in order to give an opportunity for the less financially fortunate to live there. In the interest of conserving money, the rooms' locks are never changed unless absolutely necessary. As a result, the same keys have seemingly been used by several generations of tenants.
The earliest known tenants of Hidamari Apartments are Misato and Riri. At the series' onset, the only tenants were Yuno, Miyako, Sae, and Hiro. The remaining two units were unused. At the beginning of the next school year, these vacant apartments were moved into by two freshmen, Nori and Nazuna. This marked the first time in three years that all six units were filled simultaneously.
Another year later, Hiro and Sae graduated and vacated Hidamari Apartments, then moved into Hinata Heights. Matsuri moved into Hiro's former room. Sae voluntarily left her extra appliances in the room and the Landlady began offering it as a premium-rate furnished apartment, but it remains unoccupied.
In the anime, each door is a different color. In the manga, each door is brown.
Community content is available under
CC-BY-SA
unless otherwise noted.