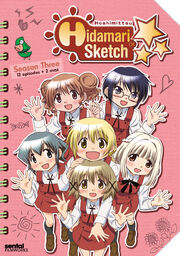 "Life at the Hidamari Apartments continues. A year has passed since season one. Now that Yuno and Miyako are second years and Sae and Hiro are third years, they are well adapated and ready to help Nori and Nazuna adjust to life in the Hidamari Apartments! This slice of life comedy keeps getting better and better in Hidamari Sketch Hoshimittsu!" 
— Sentai Filmworks Catalog
Hidamari Sketch x Hoshimittsu is the third season of the Hidamari Sketch anime. Consisting of twelve episodes, it premiered in Japan January 8, 2010 and ran through March. The season takes up the story in Yuno's second year, although the first part of the first episode takes place the February before. Like its predecessors, the episodes are not in chronological order.
Community content is available under
CC-BY-SA
unless otherwise noted.