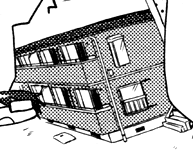 Hinata Heights (ひなたハイツ) is an apartment complex located within five minutes of both Ama Art University and Sae's unnamed college. Sae and Hiro begin renting a single unit together after their graduation from Yamabuki High School. They are named after the surname of their unseen owner, Hinata (日向).
The complex has many appealing features: it meets earthquake and fire safety regulations, its trash pick-up site is clean, and it faces south so laundry will dry faster. The kitchen is furnished with a two-burner gas stove and the bathroom has a toilet with a bidet function. There are two bedrooms in the apartment they rent: one Western-style (used by Hiro) and one Japanese-style with tatami mats (used by Sae).
AppearancesEdit
Like hidamari, hinata also means "a place in the sun."