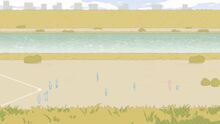 Tōka River (桃花川 Tōkagawa) is a Class 1 river located 20 minutes by bicycle from Hidamari Apartments. It is a wide open riverbed park, making it an ideal spot for Yuno to practice riding a bike. There is a playing field where local children can play sports like baseball.
Miyako ponders that if a seal came to the river, it would be nicknamed Tō-chan ("father").
The kanji in Tōka mean "peach" and "flower."